China Custom Stainless Steel Ceiling Manufacturer
Handles stainless steel ceilings of any size
Fast free sample production, best product quality in the industry
Provide the

most complete

stainless steel ceiling
As a leading manufacturer of stainless steel ceilings (including other stainless steel sheets), HOTIGOLD has the ceiling solutions you need. We specialize in high quality, customizable stainless steel ceilings. At HOTIGOLD, we control every step of the production process to ensure your ceilings meet the highest standards.
HOTIGOLD stainless steel ceilings are manufactured by our experienced engineers using advanced technology. Our professional team will oversee every step of the process with you to ensure you get the highest quality stainless steel ceiling products. Our goal has always been to build a long-term relationship with you.
stainless steel ceiling series
Choosing the Right Stainless Steel Ceiling
If you cannot find a stainless steel ceiling product that exactly meets your application requirements, we at HOTIGOLD can modify the design to create the ideal ceiling product that meets your needs.
HOTIGOLD can customize stainless steel ceilings to meet the exact needs of your project. Whether it's ceiling size, color or finish, it's all customizable.
HOTIGOLD relies on the implementation of strict quality system to ensure the product quality of stainless steel ceilings. Custom stainless steel ceilings help you continually adapt to the demands of modern environments.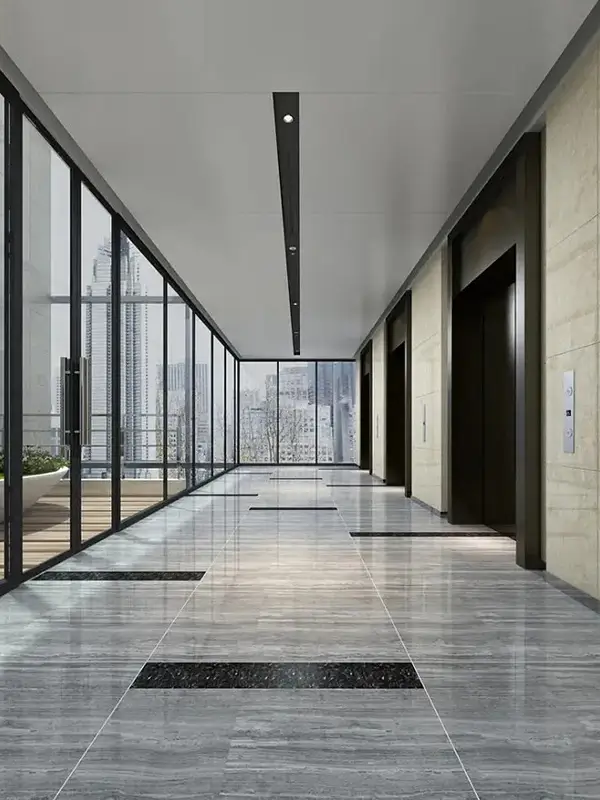 One Stop Solution for All Your Stainless Steel Ceiling Needs
HOTIGOLD, the industry's leading stainless steel sheet manufacturer, is unmatched in quality and manufacturing capabilities. Therefore, no matter the size of the order, we will produce on time and ensure on-time delivery.
With the help of our HOTIGOLD professional technicians and advanced production equipment, HOTIGOLD manufactures according to customers' needs and assists customers in how to use stainless steel ceilings correctly.
With nearly 12 years of stainless steel plate production experience, we continue to provide our customers with cost-effective stainless steel ceiling products. If you are looking for the best stainless steel ceiling solution, HOTIGOLD will surely meet your needs, contact us now!
All HOTIGOLD series finishes available
HOTIGOLD offers the most complete range of custom finishes available for stainless steel ceilings. As a major decorative item in the building, the ceiling of course needs to reflect the best decorative effect.
We have 250+ styles of stainless steel sheet finishes, which can perfectly match whether it is indoor ceiling decoration or outdoor architectural ceiling decoration.
Our professional technical team will make professional suggestions in a timely manner according to your actual usage scenarios. All you need to do is tell us your usage scenarios and cost budget. What HOTIGOLD does best is to provide the most reasonable product solutions within the cost budget.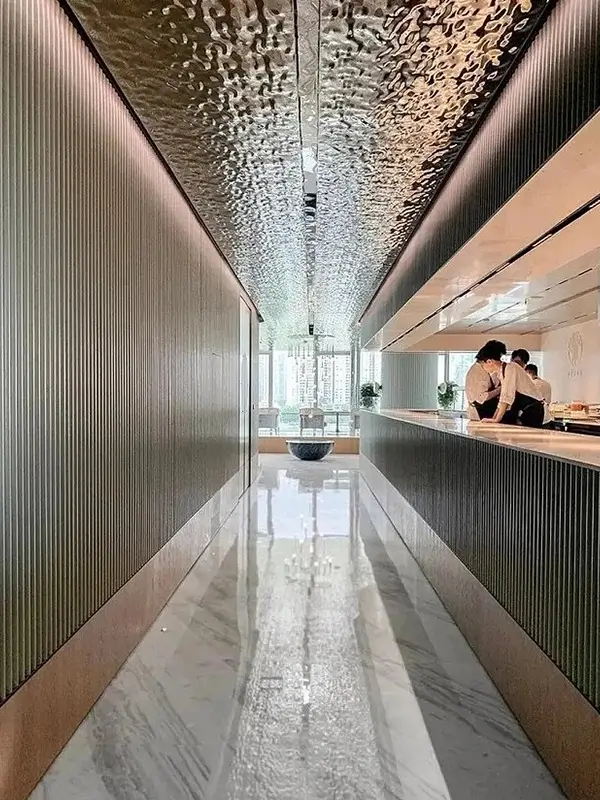 Application scene of stainless steel ceiling
The right stainless steel ceiling can bring very high commercial value to your project. Compared with traditional decorative materials, stainless steel ceilings have great price advantages and use values. Rich finishes and easy maintenance are the keys to its widespread use. HOTIGOLD, as always, provides you with the highest quality stainless steel sheet products.
Core manufacturing process of stainless steel ceiling
8K mirror, which means almost mirror-like finish, bright and illuminating. The 8K mirror surface has good corrosion resistance, and after the 8K mirror surface treatment, other processes such as coating and etching can be carried out.
The higher the surface brightness of the stainless steel sheet, the greater the reflectivity, the less the surface defects such as white spots, pinholes, orange peel lines and water ripples appear, and the more customers will be recognized.
Using the most advanced PVD vacuum coating process in the industry, the surface of the stainless steel screen is PVD coated, and the color performance is more natural and smooth.
HOTIGOLD has large-scale PVD coating equipment, professional PVD coating technicians, and produces the required stainless steel screens in strict accordance with the customized needs of customers. Judging from previous customer evaluations, our PVD coating process is well received.
More application examples
stainless steel wall panel
Kitchen Stainless Steel Sheet
PVD color stainless steel sheet
Stainless Steel Ceiling Help Guide
Stainless steel ceiling material selection
The material of stainless steel ceiling is actually no different from other stainless steel plates. The material can be one of the commonly used stainless steel 201, 304, 316 or 400 series.
Generally, 201 grade stainless steel is used more, because it is used in ceiling decoration, so the performance requirements are not high, and 201 grade stainless steel has sufficient performance and low price, and is most suitable for making stainless steel ceilings.
At the same time, it is also because the stainless steel ceiling is mainly flat, so the processing performance of 201 grade stainless steel also meets the requirements for use. If you choose more advanced 304 or 316 grade stainless steel, it will definitely be better, that is, the product price is slightly more expensive, generally 300 series or 400 series stainless steel is rarely used.
Application areas of stainless steel ceilings
Stainless steel ceilings are mostly used for ceiling decoration and protection, and are used more in commercial places, such as shopping mall ceilings, bar ceilings, pedestrian ramps, hotel ceilings, indoor swimming pool ceiling decoration, etc.(Learn More)
Due to the rich and diverse effects of stainless steel ceiling finishes, it is most used in commercial places, and especially the 3D embossing series is the most popular with customers. Followed by the mirror series. Moreover, the stainless steel sheet has high reflectivity, and when used indoors, it can increase the brightness of the light, making the room feel very spacious.Therefore, the main application of stainless steel ceiling is to decorate and protect the building ceiling.
Do need to spray the surface paint to use the stainless steel ceiling?
Our stainless steel ceiling is already well protected by related processes, but the right paint coating can also add to its protection.So, if possible, you can choose any color of enamel or powder coating.
Enamel paint has a glossy finish that resists different humidity conditions and protects stainless steel ceilings from moisture. Specific enamel coatings, such as epoxy enamel and PU enamel, are often used in industrial stainless steel metal enclosures due to their corrosion resistance.
Powder coatings are deposited by electrostatic forces and are faster, stickier and easier to dry than enamel coatings. Its surface appearance is also more flexible, giving you glossy and matte finishes.