China Professional Etched Stainless Steel Sheet Factory
Professional Wholesale & Custom Etched Stainless Steel Sheet.
China source factory,OEM/ODM manufacturer.
About Etched stainless steel sheet
Using high-quality stainless steel base material,the desired pattern and texture are etched on the surface of the stainless steel sheet through an environmentally safe chemical etching solution.
High quality 201/304/316/430 grade stainless steel optional.
Various surface colors are available.
Custom sizes and sheet thicknesses are available.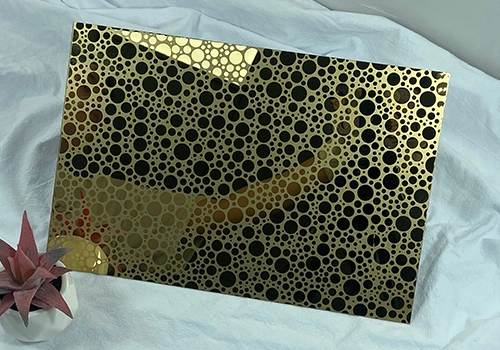 Wide Custom Options for Your Etched Stainless Steel Sheet
We offer the option of producing etched stainless steel sheets in different sizes to ensure you get a sheet product that can be used accurately.
You can consider multiple color options, which will help you better position yourself in the market and bring some unique products.
We provide the production of etched stainless steel sheets of different thicknesses to help you solve the actual use of sheet products of different thicknesses.
According to your actual use needs, provide different sheet finish options. We offer different finish options to ensure you get the right fit for your needs.
Why choose HOTIGOLD's Etched stainless steel sheet
Comprehensive custom service.Product quality has passed ISO 9001 certification.One of the top three color stainless steel sheet suppliers in China.
color etched stainless steel sheet
HOTIGOLD has a complete range of color etched stainless steel sheet products.The surface color film has strong adhesion and uniform color.Flagship Products:Mirror Etched and Brushed Etched.
Adopt PVD vacuum plating process.The color film has strong adhesion and durability.
Anti-fingerprint coating is optional on the surface.Oil and scratch resistant.
Environmentally friendly etching solution is used.Safe and free of harmful substances.
more color Etched stainless steel sheet
As a color stainless steel sheet manufacturer.HOTIGOLD's etched stainless steel sheets are also available in a variety of colour finishes.
Our Clients - Strategic Partners
Our customers and our suppliers.And HOTIGOLD to maintain a long-term strategic partnership.
More Finish Stainless Steel Sheet
In addition to etched stainless steel sheet,HOTIGOLD also has brushed/embossed/Bead Blasted/mirror/vibrated/antique finish stainless steel sheet series.
General Parameters And Customizable
In addition to offering standard sizes of stainless steel sheets, customization is possible in thicknesses, widths and lengths.