Decorative Stainless Steel Sheet Manufacturers and Wholesalers.Professional team with 12 years experience in decorative stainless steel.
Your Premier Stainless Steel Sheet Supplier:

HOTIGOLD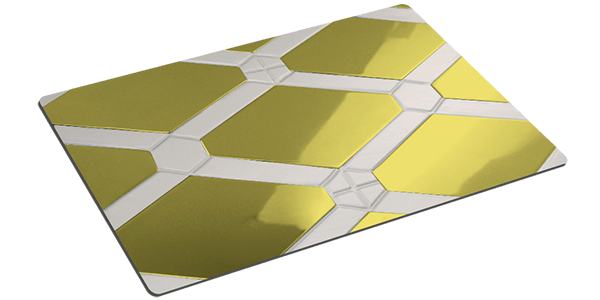 One of The Top 3 Leaders and

Biggest Manufacturer of Decorative Stainless Steel Sheets in China
FOSHAN HOTIGOLD STAINLESS STEEL CO., LTD.Established since 2010 as "HOTI-GOLD", located in Foshan China, one of the best well-known cities of stainless steel in the world,enjoying high convenience of raw materials and transportation.
Strategic cooperation with top elevator brands around the world, such as OTIS, KONE, THYSSENKRUPP, FUJITEX, JOHNSON, partners with famous SS brands as HIDAYATH, ERKAN, ASGE, TARGET, SASCO, NAMAN, MINOX etc. Innovator and pioneer of decorative stainless steel sheets, such as 3D punching pattern with colors combination as gold&silver, gold&black, blue&gold, pink&gold, green&gold, partially fade styles, crafts mixed as HL&vibration&mirror, bead blast&mirror&brushed etc.
"HOTIGOLD" brand is not only well known in China, but also popularly welcomed in India, Mid -East, Australia, SouthEast Asian, Russia and Turkey, its ready to expand the business of European and North America.
HOTIGOLD Factory Overview
Standardized workshop, strict quality control system, welcome to visit the factory
Five stands 18 high tande m mill and three stands 18 hightandem mills continuous with the annealing and pickling line and 850 type of six stands 6 high tandem mill as well as 20 high tandem mill and so on.
Fully equipped, several professional technicians produce and process and control the quality.
Inspection and Custom Packaging
HOTIGOLD is almost harsh on the product quality of stainless steel plates. Strictly follow the production process certification system. Every product of the customer is striving to leave the factory perfectly.
HOTIGOLD stands out in the stainless steel sheet industry through research and development of stainless steel sheet products, attracting outstanding talents, and product quality system. Independently designed and developed more than 250 types of stainless steel sheet products, with strong independent design capabilities and market insight, quickly seized market share. At present, HOTIGOLD has a stable team of professional and technical engineers, and we will continue to introduce more high-tech personnel to make HOTIGOLD step up to a higher world stage. Finally, HOTIGOLD will continue to develop innovative stainless steel sheet products, devote itself to customer service experience, improve the management system, and create a first-class company that is satisfied with both employees and customers.
About the HOTIGOLD brand story.Learn More